Op 6 en 7 juni 2015 organiseert Enbukan voor het vijfde jaar op rij een seminar met Shishiya sihan. Dit jaar zal het seminar gehouden worden in het, in 2014 geopende nieuwe, sportcentrum Helsdingen in Vianen.
Een ambiance die recht doet aan dit soort seminars, want eerder al werd hier op initiatief van Kyorakukan een seminar georganiseerd met Gary Boaz, en de plek waar Enbukan dit jaar voor de derde keer de 4-stijlen stage organiseert op 15 maart 2015.
Het seminar met Shishiya sihan heeft dit jaar ook een feestelijk tintje, want in dit weekend viert Kyorakukan haar 20 jarig bestaan. Iets waar op zaterdag avond 6 juni bij stil wordt gestaan, tijdens het live & cooking diner bij het Van der Valk restaurant in Vianen. Deelname hieraan is voor leden van Kyorakukan tegen een sterk gereduceerd tarief mogelijk, een uitnodiging hiervoor volgt.
De inschrijving is inmiddels van start gegaan op www.enbukan.nl/register-seminar/
Hopelijk tot ziens op de tatami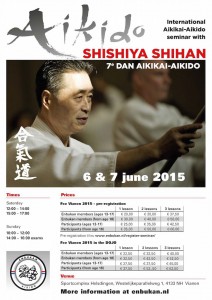 On the 6th and 7th of June, Enbukan organizes for the fifth year in a row a seminar with Shishiya sihan. This year the seminar will be held in the, in 2014 opened new, sports center Heldingen in Vianen.
A location that gives right to these kind of seminars. Earlier, by initiative of Kyorakukan a seminar with Gary Boaz was organized at this location. And the location where Enbukan for the third time the 4-styles seminar organizes  on the 15th of March.
The seminar with Shishiya sihan is sepcial this year, because Kyorakukan celebrates her 20 years anniversary. This will be celebrated  on Saturday the 6th of June during the Live & Cooking diner at Van der Valk in Vianen. Participation to this diner is for members of Kyorakukan possible for a reduced price. An invitation will follow soon.
Preregistration to the seminar is now open on www.enbukan.nl/register-seminar/
Hope to see you on the tatami