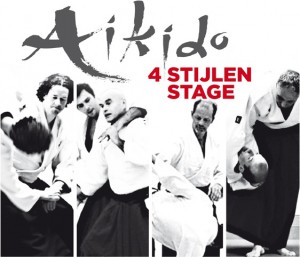 Met in totaal bijna 50 aikidoka's van verschillende stijlen op de mat is de door Enbukan en Kyorakukan georganiseerde stage zeer goed bezocht.
Na een korte warming up beet Mark Stokmans (3e dan Aikikai Aikido, in de stijl van Ikeda) het spits af met Keri Waza. Hierbij werden de invloeden vanuit onder andere kickboksen en karate gebruikt om diverse aannames in de vormen van Te-waza, Ashi-waza en Ashi-dori oefenen.
Vervolgens nam Roel van Beusekom (5e dan Yoseikan Aikido) het over met tanto-technieken. Hij begon de les met de tanto-no-kata, die stap voor stap opgebouwd, om daarmee 7 verschillende aanvallen met de tanto te oefenen. Vervolgens werden vanuit tanto-dori 3 technieken geoefend.
Na de lunch vervolgde Hans Mertens (5e dan Aikikai Aikido, aangesloten bij de JBN) de les met Suwari waza. Na het zweten van de ochtendles was het de uitdaging om zonder kracht, maar met behulp van het zakken met je gewicht de balans van Uke te verstoren om zo de techniek uit te kunnen voeren.
Tot slot was Albert Stevense (4e dan Aikikai Aikido, in de Nishio stijl) er met Ken-no-tebiki technieken en de relatie met de ongewapende technieken in de stijl van Nishio.
Na een slotwoord en een woord van dank voor de leraren en de leerlingen was de stage afgelopen en kon iedereen beginnen aan het trotseren van de sneeuw op weg naar huis. Aan alle positieve reacties van de aanwezigen te horen was het een zeer geslaagde dag waarin de diverse stijlen goed en helder naast elkaar gezet konden worden.
Succesful 4 styles seminar.
With a total of almost 50 aikidoka's from different styles on the tatami, the seminar organised by Enbukan and Kyorakukan was a success.
After a short warming up Mark Stokmans (3rd dan Aikikai Aikido, Ikeda style) started with Keri Waza.
He used influences from kickboxing and karate to practice different entrances in the Te-waza, Ashi-waza and Ashi-dori forms.
Second, Roel van Beuzekom (5th dan Yoseikan Aikido) taught Tanto techniques.
He started his lesson with Tanto-no-kata, building it up step by step, to practice 7 different attacks with the Tanto. Afterwards we trained 3 different techniques from tanto-dori.
After the lunch Hans Mertens (5th dan Aikikai Aikido, JBN) continued with Suwari Waza.
After the hard labour of the morning, it was a challenge not to use power, but lowering your centre point of weight to take Uke's balance and perform the technique.
Finally, Albert Stevense (4th dan Aikikai Aikido, Nishio style) used Ken-no-tebiki in relation with the unarmed techniques in the line of Nishio.
After a word of thanks for the teachers and students the seminar was finished and everyone could start the long road home through the snow.
From all the positive reactions from the people present at the seminar the seminar was a big success.